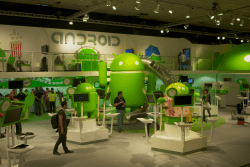 More than 850,000 Android devices are activated every day according to Andy Rubin, Google Senior VP of Mobile and the man in charge of Android development. Rubin was speaking at this year's Mobile World Congress (MWC) event in Barcelona, where he said that that number of activations has brought the total number of Android devices around the world to more than 300 million, of which 12 million are tablets.
In a meeting with journalists, the executive went on to clarify that, for its figures, Google only counts activations once per device ID – this means that reset or resold devices are not counted multiple times. Rubin also noted that Android-based devices like Amazon's Kindle Fire aren't counted as they don't include the company's apps and services, such as Gmail and Google Maps.
Rubin also stated that there are now more than 450,000 apps in the official Android Market, up from approximately 150,000 the same time last year. Discussing specific devices, Rubin says that Samsung's Galaxy Tabs are among the most popular tablets. Talking about the company's Nexus devices, he said that while they do not sell as well as some other Android smartphones, they are Google's attempt to "set the bar for what's possible".