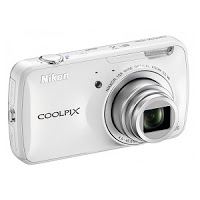 First week of August, I read about the rumor that Nikon will going to launch its first Android-powered camera and yes, the rumor was right. Nobody wants to pay $350 for a low-end point-and-shoot camera and not for it's built in WiFi connection. But, Android Fans will surely give it a try!!
The $350 / 280-300+ Euro
Coolpix S800c
(set to ship in October 2012) has Android 2.3 aka Gingerbread is better at this thanks to the 10x optical zoom and the 16-megapixel CMOS sensor. The 3.5-inch AMOLED screen still makes the product resemble a phone, to a certain extent, when beholding it from behind.
Internet access is available, for one, via the built-in Wi-Fi connection. Once it is set up (just like on an Android phone), it permits images to be posted on social networking sites (Google+, Facebook, and Twitter), among other things.
The S800c provides access to a vast world of applications for games, productivity and personal communication/ email, including Nikon's photo storage and sharing site, my Picturetown®. Users are also able to watch video downloaded from Google Play right on their camera.
Ever wanted to track a weekend excursion or geo-tag a hard to find shooting spot? The GPS function enables recording of shooting location information on stills and movies.
Everything else on the spec sheet is what comes with the territory of being a Nikon pocket photo/video camera, though some things stand out: wide-angle 25 mm to 250 mm NIKKOR lens (equivalents in 35-mm [135] format), built-in lens-shift vibration reduction function (VR), capacity for recording 1920 x 1080p/30-fps full-HD movies with stereo sound, and recording in slow motion.
The Nikon promises to its buyers "capture of sharp, blur-free and beautiful images that can be extremely difficult to capture with smartphones." Well, this can only be tested after it's first release.