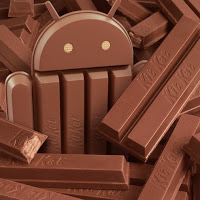 All Android fans were excited with the arrival of a new version of Jelly Bean, that's Android 4.3. It was first released for Nexus 7, Nexus 7 2012, Nexus 4, Nexus 10 and Samsung Galaxy Nexus. Now there's lots of customization and development going on to fit the new version for various other devices. Many thought it as a break time for new version of Android. Lots of new confectionery names were suggested by many fans which they thought should be given to the new version of Android.
Key Lime Pie
was almost to be confirmed as name of next Android version...
And to add more excitement and surprise, Google announced a new Android 4.4 operating system (OS) named after a chocolate brand of Nestle with which the Internet giant has forged a co-branding tie-up on Wednesday. Many thought it as a rumour, some were really excited, and some were against the name, because the name reminds them of Nestle than Google Android.
Google has intelligently targeted two goals in on shot. One, to counter Microsoft's move after buying Nokia Units in $7.2 billion which was considered as threat by Microsoft to bring down the Android market shares.
Second, it has taken advantage of confectionery name to increase the popularity and business profits. This is considered as very smart move, because Android and Kitkat are both famous and co-branding tie-up is win win situation. Google has shown it's true color after it changed the name, as its true business is advertisement. A new type of Kitkat in shape of android will be announced with new cover which displays offers like new Nexus7, Play store cards and many more.
Soon after the announcement, Nokia tweeted an adverstiement in which the Samsung galaxy S4 was in two pieces as KitKat. This is also a clear threat to Samsung, but Samsung considered as funny.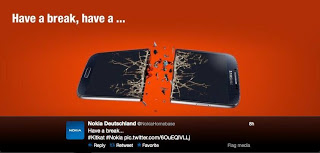 Although Google has cleared that there's new version with new capabilities shown in
KitKat
way, but Android Developers are still waiting for the actual specifications. What do you think?