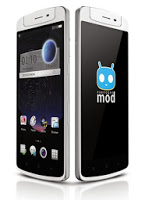 Oppo N1 is the first smartphone to have CyanogenMod preloaded now available for $599. This has been great achievement for the Open Source ROM makers as they have made further step to bring this directly to users without any further tinkering. This one has 16GB of internal storage space, ships with a few CyanogenMod perks and of course, maintains the unique features found on the regular model OPPO N1.
The Cynogenmod team also added some outer looks to mobile sticker and package.The CM Edition OPPO N1 also ships with the original N1 cover and the O-Click — which is one of the unique features found with the regular model N1. The O-Click is a small remote that will do a variety of things included acting as a remote camera shutter and device alarm should the two become separated.
O-Touch Panel on the back is a 12cm touch panel that allows the user to scroll, tap and even snap images. The remaining highlight is the rotating camera. The camera is 13 megapixel, rotates 206 degrees, has a dual-mode LED and f/2.0 aperture with 1/3.06 imaging module. Other features include the 5.9-inch 1080p display, quad-core 1.7GHz Snapdragon 600 processor and 2GB of RAM.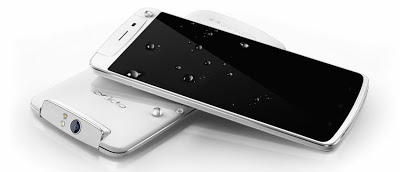 It's the first smartphone with rotating camera and other new features. Let's hope this will become a big hit for CM team.
SOURCE:
CyanogenMod Blog