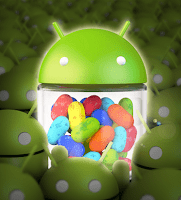 Google Android distribution announced for the month of December indicates that Jelly Bean has topped with more than 60% of total android distributions. According to Google, Android 4.1 Jelly Bean devices are the most common on the Play Store with 35.9%, while the Android 4.2 has a 15.4% market share. Latest Jelly Bean distribution, Android 4.3 has only 7.8%, but it might rise next month when lots of smartphones are expected to receive it as upgrade. Android 2.3 Gingerbread, which has been confirmed to feature no less than 21.2% share, followed by Android 4.0.3 and 4.0.4 Ice Cream Sandwich with only 16.9%...
After holding a tight grip on the top spot in these distribution stats for what seemed like an eternity, Android 2.3 Gingerbread has been steadily falling in recent months as consumers upgrade to fresher hardware. That trend continued again this month as Gingerbread finished with a share of 21.2 percent, a drop from the 24.1 percent share it had in December. Android 2.2 ended the survey period with a share of 1.3 percent.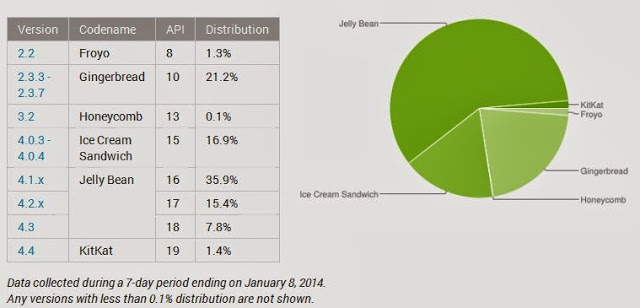 Only 0.1% of tablet users seems to have been stuck on Android 3.2 Honeycomb, which is confirmed as the total number of devices visiting Google Play Store last month. Android 4.4 KitKat features 1.4% overall distribution.
All the details announced by the search giant reflects devices running the latest Google Play Store app, which is compatible with Android 2.2 and higher.
SOURCE: